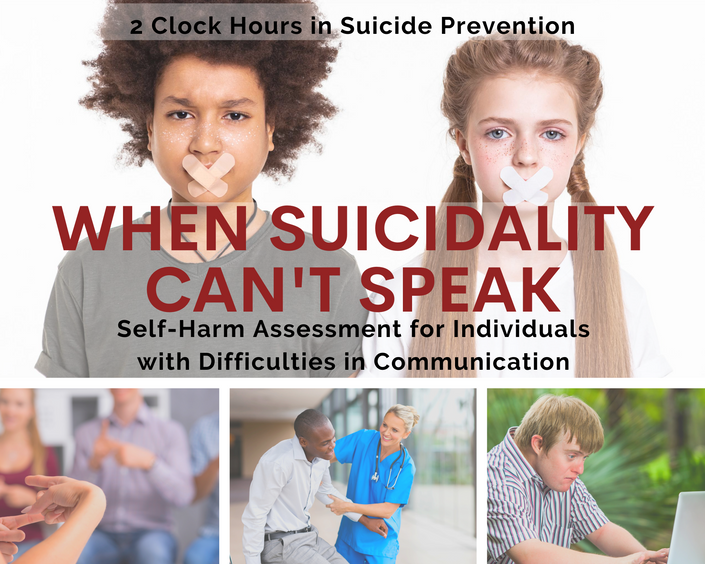 When Suicidality Can't Speak (2 CE Hours)
Self-Harm Assessment for Individuals with Difficulties in Communication
*2 Continuing Education (CE) Clock Hours in Suicide Assessment/Prevention for Behavioral Health Professionals
The purpose of this course is to provide mental health professionals with a more comprehensive understanding of effective and ethical practices related to suicide assessment for individuals with intellectual and developmental disabilities, Autism Spectrum Disorder, and other issue that may affect communication. In this course, students will review the scope of the issue through investigation of historical data related to the treatments of these populations and their mental health needs. Next, students will review modern suicide assessment alongside a discussion of why it may not be appropriate for individuals who struggle with communication. Lastly, students will be instructed in how to modify current approaches to ensure ethical practice for clients who may struggle with traditional means of communication to aid in the assessment and prevention process. At the end of this course, students will:
Have gained a fuller understanding of the struggles of those diagnosed with IDD, ASD, or issues in communication related to their mental health treatment
Better understand the historical precedents that have laid the foundation for modern discrimination and marginilization of these individuals
Feel confident in the traditional practice of suicide assessment
Understand the means by which they can modify current best practices in suicide assessment to accodmidate clients who may struggle with communication to aid in prevention
PsychMaven is responsible for all aspects for this program.
*PsychMaven has been approved by the National Board for Certified Counselors (NBCC) as an Approved Continuing Education Provider (ACEP) for both Live/Real Time and Home Study continuing education (CE) Programs. ACEP No. 6624. This program is designed to meet the standards of NBCC content areas no.6 (Assessment). PsychMaven is solely responsible for all aspects of this program.
*PsychMaven is a Licensed Social Worker Continuing Education Provider under the Texas State Board for Social Worker Examiners (Provider No. 7751). PsychMaven may provide continuing education to Social Workers certified and/or licensed in that state, and in other states/jurisdictions that accept the Continuing Education (CE) approval of other state Social Work boards. Please contact your state licensing board if you have questions about the acceptability of continuing education (CE) hours.
*PsychMaven is an Approved Education Provider (AEP) for NAADAC, the Association for Addiction Professionals (NAADAC No. 122584) and may offer approved clock hours for programs that meet NAADAC requirements. This program is designed to primarily meet NAADAC counselor skills group no.2 (Clinical Assessment)
For the latest on the the CE Approvals of PsychMaven, as well as guidance on CE requirements for different disciplines, visit us at www.psychmaven.org/ce-approval.

Your Instructor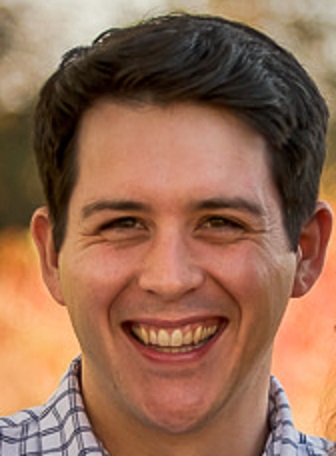 Wes Allen (MS, LAPC, NCC) is a mental health counselor and clinical educator, who is currently finishing his PhD in Counselor Education with the University of Tennessee (Knoxville). Wes is passionate about his roles as an educator, supervisor, and researcher. His research interests include the development of counselor identity, assessment of suicidal ideation, and effects of psychological trauma. After earning his Master's degree in Clinical Mental Health Counseling from the University of North Georgia, he spent time in practice as a professional counselor before moving to Knoxville to continue his education. Wes has previously served as the Life Skills instructor for the FUTURE program at the University of Tennessee, Knoxville. He currently a private practice therapist with Jones Family Counseling in Knoxville, TN. For more on Wes, visit www.wesallenlpc.com
Course Curriculum
Modern Suicide Assessment
Available in days
days after you enroll
Adapted Suicide Assessment
Available in days
days after you enroll
Frequently Asked Questions
How long do I have access to this course?
You have full access to the course material for 12 months once you enroll. You can access the material and complete the course whenever it works with your schedule during that time.
When can I start the course?
This course is completely automated to do at your own pace during the purchase period, so you can start at anytime
What if I am unhappy with the course?
We would never want you to be unhappy! If you are unsatisfied with your purchase, contact us within 30 days of purchase and we will give you a full refund.
Does this course offer continuing education (CE) credit?
Yes! The course offers 2 approved continuing education (CE) clock hours under multiple CE approval organizations (as listed in the course description) and can cover the approval needs of many mental health/professional counselors, marriage and family therapists, clinical social workers, psychologists, and addiction professionals. However, all students are responsible for confirming if the CE approval of this course meets their CE needs. We can offer you further information about PsychMaven's CE approvals and resources, by visiting us at www.psychmaven.org/ce-approval
Does the material in this course meet my state's requirements for suicide assessment/prevention training?
Ultimately, each student in the course has to verify what their special continuing education (CE) requirements are with their relevant licensing/credentialing organization. However, this course has been designed to contribute to the suicide prevention hours required for mental health providers licensed in states such as Tennessee, Washington, Utah, Connecticut, and others. For more information on PsychMaven's continuing education approvals, visit us www.psychmaven.org/ce-approval