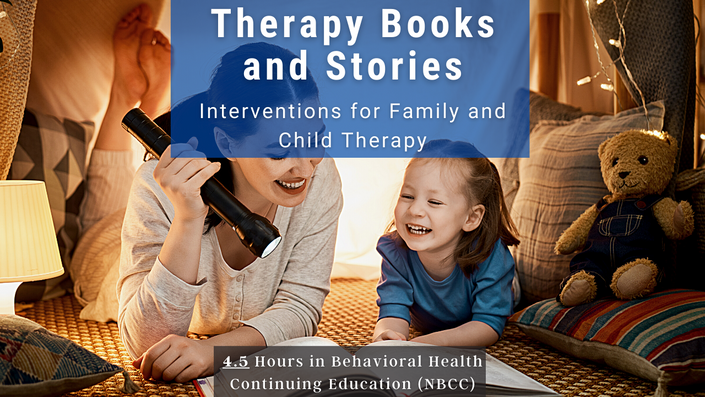 Therapy Books and Stories (4.5 CE Hours)
Interventions for Family and Child Therapy
*4.5 Continuing Education (CE) Clock Hour for Behavioral Health Professionals (Home Study Format)- 1 hour of the 4.5 is in ethics

Course Description:
This course will review information on using therapy books in clinical practice with families, youths, and children. Further, research and clinical experience on using written stories and therapy books will be reviewed. Skills are practiced on how to teach caregivers to use therapy books and "family story time" to process adverse stressors in an engaging and meaningful way. Considerations are given to different formats such telehealth or in-person work.
Families face considerable and unique challenges such as addiction, domestic violence, trauma, grief, community violence, and economic struggles. Unique challenges require tailored interventions that children's therapy books can offer to meet the needs of the family and children.
Because of this, areas of focus will include the "Do and Don't" of using therapy books, how to teach caregivers to use therapy books with their families, understanding risks, and going through a piece of example sessions using a therapy book with a child in three different one-on-one sessions. Books on caregiver addiction, grief, and building self-confidence are used as the examples. Clinical interventions and strategies for using written stories are discussed.
Leo DeBroeck is a Licensed Mental Health Counselor and certified in Washington State, USA as a Child Mental Health Specialist that has written many award winning therapy books and short stories for families and children.
Course Objectives:
Workshop attendees can expect to:
Objective 1) Learner will be able to articulate a method for measuring the success of an intervention.
Objective 2) Learner will be able to apply one research-backed approach where using stories and therapy books can benefit clients.
Objective 3) Learner will recognize and avoid potential pitfalls when utilizing stories and therapy books with clients.
Objective 4) Learner will be able to utilize critical selection skills to choose and use a book matching the client's engagement and maturity level.
Objective 5) Learner will be able to apply teaching strategies to guide caregivers in using stories in a healing way.
Objective 6) Learner will recognize potential risks associated with using stories and children's therapy books.
Objective 7) Learner will be able to effectively utilize stories in a one-on-one therapy session and adapt it to the client's specific needs.
Objective 8) Learner will demonstrate the ability to process story endings effectively and apply Socratic questioning with clients.
Course Outline:
Introductions and Disclaimers
Definitions

Ethical Considerations
Cultural Considerations
Risks
Measurement tools

Do's and Don'ts

Time management

Using the entire session
Questions
Distractions and processing moments
Rushing stories
Skipping pages

Engagement

Maturity appropriate
Levels of focus
Leaving stories "lying around"
That story vs. My story

Avoiding trickery
Finding similarities and differences

Therapy books vs kids' books

Showing not telling
Setting time aside
Decompression stories after

Ending stories

Unclear endings
Questions throughout or at end

How to teach caregivers

Underlying message

Avoid compartmentalizing
Using to open conversation

Keep the conversation going
As children mature so do questions

Addressing Fear

Processing anxieties
Using coping skills
Caregivers needing support

Risk factors

Types of risk

What could go wrong
Weighing pros and cons

Research findings

Example story

Caregiver addiction
Grief
Confidence

Conclusion

The takeaway
References
Further readings
*PsychMaven is responsible for all aspects for this program.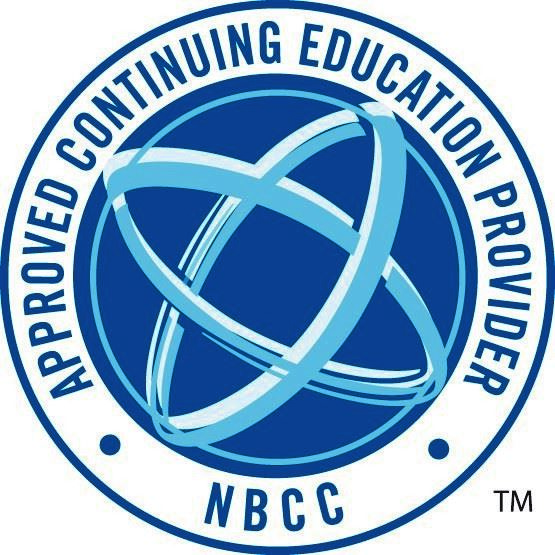 *PsychMaven has been approved by the National Board for Certified Counselors (NBCC) as an Approved Continuing Education Provider (ACEP)- ACEP No.6624. Programs that do not qualify for NBCC credit are clearly identified. PsychMaven is solely responsible for all aspects of the programs. PsychMaven is approved for both Live/Real Time and Home Study continuing education (CE) programs. This program is designed to meet the standards of NBCC content areas No.1 (Counseling Theory/Practice and the Counseling Relationship) and No.8 (Counselor Professional Identity and Practice Issues).
For the latest on the Continuing Education (CE) Approvals of PsychMaven, as well as guidance on CE requirements for different disciplines, visit us at www.psychmaven.org/ce-approval

Your Instructor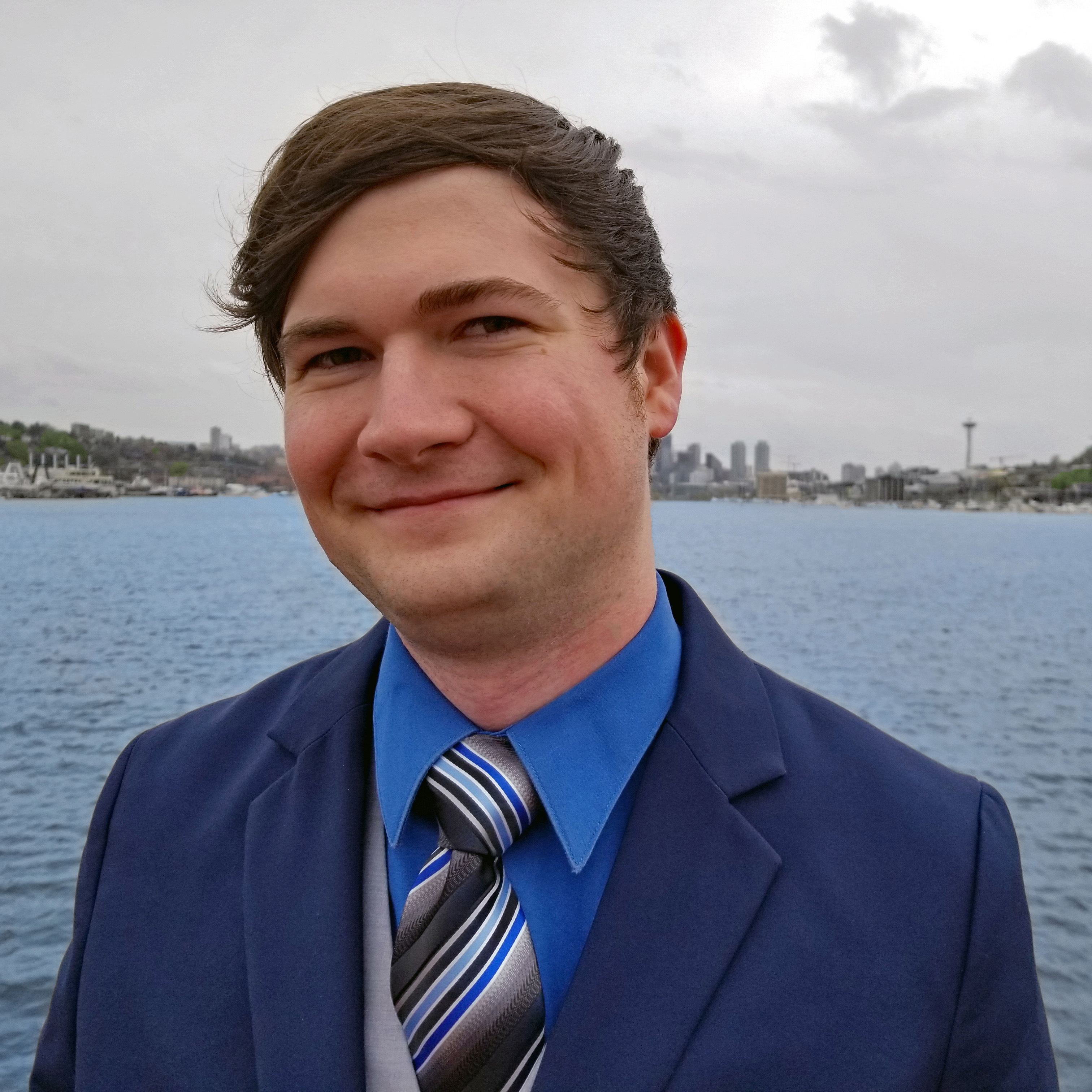 Leo DeBroeck is a Licensed Mental Health Counselor (LMHC) and Child Mental Health Specialist (CMHS) in Washington State. He is CBT Plus certified through the University of Washington and Harborview Sexual Assault and Traumatic Stress Center. He works full-time at a community health center as a therapist with a team of Licensed Marriage and Family Therapists, Licensed Clinical Social Workers, Advanced Registered Nurse Practitioners, and Psychologists. He has completed his Master's of Science in Clinical Psychology at Eastern Washington University with his thesis on factors in suicide. He has experience working with children and adolescents at an intensive inpatient program in Spokane, Washington for several years. He has worked in several different levels of care for mental health treatment including long-term inpatient care, WISe wraparound intensive services, school-based therapy services, and outpatient clinical settings. He also works as a quarterly faculty lecturer for Eastern Washington University's satellite campus at Bellevue College. He teaches night classes to graduate and undergraduates in foundations of psychotherapy, trauma: assessment, management, and treatment, cognitive and behavior change, and others. He has published peer-reviewed scientific research on young adults related to suicidality. He has written several children's therapy books, which are published on Amazon, for use in therapy settings addressing grief, addiction, neglect, abuse, and others. He is the president and founder of Counselor's Choice Award, LLC which reviews and promotes scientifically validated counseling products, therapeutic tools, and books.
Frequently Asked Questions
When does the course start and finish?
This course is in a home-study format, so it is completely automated to do at your own pace during the enrollment period, so you can start at anytime
How long do I have access to the course?
After enrolling you have 18-months of access to the course. During that time, you will be able to have access across all of your devices, and you can complete the course whenever it works with your schedule during that time. You continuing education (CE) will be issued to showing the date when you completed the course
What if I am unhappy with the course?
We would never want you to be unhappy! If you are unsatisfied with your purchase, contact us in the first 30 days and we will give you a full refund.
Does this course offer continuing education (CE) credit?
Yes! The course offers 4.5 approved continuing education (CE) clock hour under multiple CE approval organizations (as listed in the course description) and can cover the approval needs of many mental health/professional counselors, marriage and family therapists, social workers, addiction professionals, and psychologists. However, all students are responsible for confirming if the CE approval of this course meets their CE needs. We can offer you further information about PsychMaven's CE approvals and resources, by visiting us at www.psychmaven.org/ce-approval
Does the ethics portion in this course meet my state's requirements for professional ethics training?
Ultimately, each student in the course has to verify what their special continuing education (CE) requirements are with their relevant licensing/credentialing organization. However, this course has been designed to cover ethical standards relating to the practices of psychology, clinical social work, marriage and family therapy, and professional/mental health counseling. For more information on PsychMaven's continuing education approvals, visit us www.psychmaven.org/ce-approval