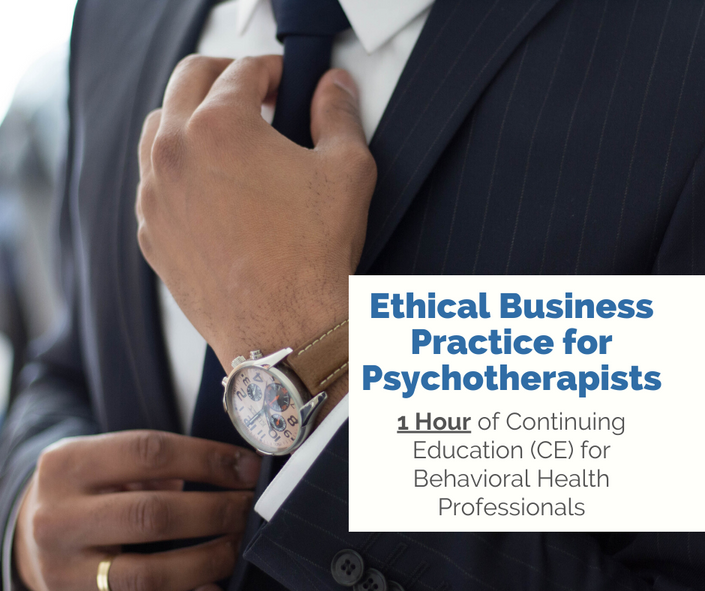 Ethical Business Practice for Psychotherapists
A Look at Ethical Codes & Standards for Several Behavioral Health Disciplines and how they Relate to Client Solicitation, Advertising, and Fees (1 CE hour)
*1 Continuing Education (CE) Clock Hour in Ethics for Behavioral Health Professionals
For those of us providing counseling/psychotherapy services, we not only want our clinical processes to be of the highest standards, but we also want to make sure that the business parts of our practices are also done in ways that care best for our clients and represent our professions well. The business parts of ethical practice include understanding the proper use of client testimonials, the correct use of clinical titles, and appropriate rent and/or fee structures we have in place. In this training, we will cover the following:
Learning Objectives
To identify and explain the current ethical standards regarding "fee-splitting" and setting some ethical guidelines for rent/fee relationships with other providers
To understand the appropriate use, and limits, of client testimonials and reviews.
To explore the standards for the use of professional titles and how to manage misinformation.
To look at the above subject matter in the context of the relevant areas in the ethical codes of ACA, NBCC, AAMFT, NASW, NAADAC, and APA. How these ethical codes can be practically applied in the therapeutic setting will also be discussed.
*PsychMaven is responsible for all aspects for this program.
*PsychMaven has been approved by the National Board for Certified Counselors (NBCC) as an Approved Continuing Education Provider (ACEP) for both Live/Real Time and Home Study continuing education (CE) Programs. ACEP No. 6624. This program is designed to meet the standards of NBCC content areas no.8 (Counselor Professional Identity and Practice Issues). Programs that do not qualify for NBCC credit are clearly identified. PsychMaven is solely responsible for all aspects of its programs.
*PsychMaven is a Licensed Social Worker Continuing Education Provider under the Texas State Board for Social Worker Examiners (Provider No. 7751). PsychMaven may provide continuing education to Social Workers certified and/or licensed in that state, and in other states/jurisdictions that accept the Continuing Education (CE) approval of other state Social Work boards. Please contact your state licensing board if you have questions about the acceptability of CE hours.
*PsychMaven is an Approved Education Provider (AEP) for NAADAC, the Association for Addiction Professionals (NAADAC No. 122584) and may offer approved clock hours for events that meet NAADAC requirements. This program is designed to primarily meet NAADAC counselor skills group no.8 (Legal, Ethical, and Professional Development).
For the latest on the Continuing Education (CE) Approvals of PsychMaven, as well as guidance on CE requirements for different disciplines, visit us at www.psychmaven.org/ce-approval
Your Instructor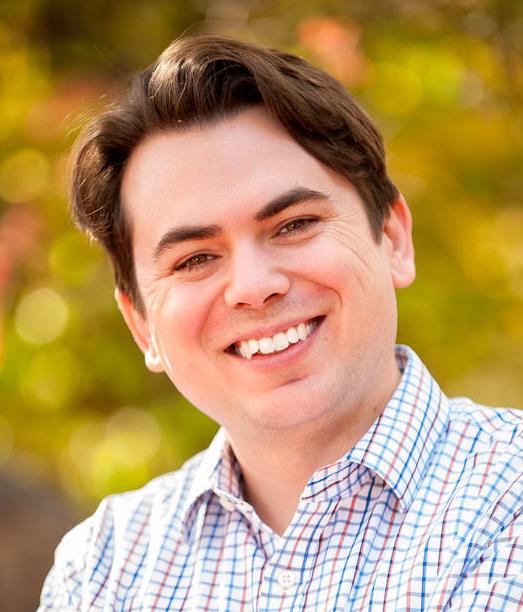 Dr. Stephen "David" Hall (PsyD, LMFT, LPC-MHSP-AS, CST, NCC) heads up content and direction as the "Chief Maven" of PsychMaven, which he founded in 2019. He has been working as a psychotherapist since 2005 and holds clinical licenses in Family Therapy and Mental Health Counseling. He has built up personal counseling practices in both Tennessee and Georgia, and in 2015 led the start-up of an independent psychiatry clinic, Haven Family Psychiatry, and then built his current group therapy practice, Haven Counseling Center. Dr. Hall maintains a psychotherapy caseload and supervises postgraduate therapists with his practice. In 2011, Dr. Hall founded the Narrative Institute, and since then has organized and taught continuing education seminars on narrative in psychotherapy, practice building, cultural trends, professional ethics, and other clinical topics; having done live trainings throughout the United States and in the United Kingdom. In 2019, the Narrative Institute became one of the founding component institutes of PsychMaven. Dr. Hall has also worked as a business and clinical consultant in recovery and treatment center start-ups, and has served as the president of the Tennessee Association for Marriage and Family Therapy (TNAMFT), the state division of the American Association for Marriage and Family Therapy (AAMFT). For more on Dr. Hall, visit www.davidhallpsych.com
Course Curriculum
Course Material
Available in days
days after you enroll
Course Lessons
Available in days
days after you enroll
Frequently Asked Questions
When does the course start and finish?
This course is completely automated to do at your own pace during the enrollment period, so you can start at anytime
How long do I have access to the course?
As free course, you have full access to the videos and material for 60 days once you enroll. You can access the material and complete the course whenever it works with your schedule during that time.
Does this course offer continuing education (CE) credit?
Yes! The course offers one (1) approved continuing education (CE) clock hour in ethics under multiple CE approval organizations (as listed in the course description) and can cover the approval needs of many mental health/professional counselors, marriage and family therapists, clinical social workers, psychologists, and addiction professionals. However, all students are responsible for confirming if the CE approval of this course meets their CE needs. We can offer you further information about PsychMaven's CE approvals and resources, by visiting us at www.psychmaven.org/ce-approval
Does the material in this course meet my state's requirements for professional ethics training?
Ultimately, each student in the course has to verify what their special continuing education (CE) requirements are with their relevant licensing/credentialing organization(s). However, this course has been designed to cover ethical standards relating to the practices of psychology, clinical social work, marriage and family therapy, professional/mental health counseling, and addiction counseling. For more information on PsychMaven's continuing education approvals, visit us www.psychmaven.org/ce-approval